To me,
World War 1
, was in 1914. However, Australia is celebrating the centenary in 2015 with the most known about part being the
Gallipoli landing in
Turkish Thrace, which was just a disaster for the Australians.
Each year on April 25th, we go into Melbourne city to the Shrine of Remembrance. I remember the first few years we did this I didn't really understand as I was new to the whole thing. Then I became educated about it and about how everything happened. Then I would sit and think about what my mother's cousin, Jimmy, went through when he died in World War 2.
Then in 2014, I started to learn more about my family through researching my family history. I found we just didn't have a few people - it was starting to become quite a list between current people that were serving, people who had retired, and then back to those who had fought for their countries independence and not survived. It had humbled me.
My 2x great grandfather's National Military certificate which says he was the 8th person "drafted"
Then this year, I found my 2x great grandfather was actually drafted into the Belgium army. It was the first time it had actually been used (since it came into law in 1830) and this was back in 1865! Then I got to thinking...in World War 1 (1914-1918) what did my great grandfather's cousins, who were still in Belgium, and their families actually go through during that war?
I then put on my detectives hat and went searching....
The part of Belgium I'm talking about is in the region of Flanders. This area is actually quite known, especially in Australia, due to the poem of In Flanders Fields which has been brought up many times since I've been here. However, I didn't realize that the Flanders they were talking about is actually my ancestor's homeland.
Where my ancestor's came from was around the Leper (Ypres) area. I was shocked. I then asked myself those who stayed behind, what did they go through during World War 1?
Apparently right where my ancestors came from was the Western Front and there were MANY battles over and over again in this area with artillery and infantry advances. I had heard of the Battle of Verdun from hubby's family history and Battle of the Somme from my father in-law talking about him wanting to go and see that area and not realizing that's where my family actually came from as far back as the early 1700's.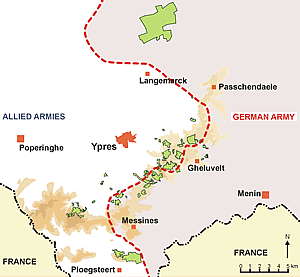 The Front Line (red dashed line) stabilized east of Ypres, forming a salient in the Allied Armies' Front Line at the end of the 1st Battle of Ypres by 22nd November 1914 taken from website http://www.greatwar.co.uk/ypres-salient/index.htm
Again I ask myself - what did the people who lived there - like my ancestors cousins - go through during this time?
Well first the Flanders area was taken over by the British Army which made it the home base for them. However, a
small area around
Ypres
remained under Belgian control.
Wikipedia says:
Many civilians fled the war zones to safer parts of Belgium. Many refugees from all over the country went to the Netherlands (which was neutral) and about 300,000 to France. Over 200,000 went to Britain, where they resettled in London and found war jobs. The British and French governments set up the War Refugees Committee (WRC) and the Secours National, to provide relief and support; there were an additional 1,500 local WRC committees in Britain. The high visibility of the refugees underscored the role of Belgium in the minds of the French and British.

[

6

]

[

7

]

In the spring of 1915, German authorities started construction on the Wire of Death, a lethal electric fence along the Belgian-Dutch border which would claim the lives of between 2,000 to 3,000 Belgian refugees trying to escape the occupied country.

[

8

]
Ypres Ruins; Ypres 1915 take from

www.toerisme-ieper.be
How would that have been? Conflict arriving on your doorstep and you have to take your family and just run where ever you could flee. There was no place to escape as you can see by the picture above. Wikipedia goes on to say
There was a firm belief that the Belgians had unleashed illegal saboteurs and that civilians had tortured and maltreated German soldiers. The response was a series of multiple large-scale attacks on civilians and the destruction of historic buildings and cultural centers. The German army executed between 5,500 and 6,500

[

11

]

French and Belgian civilians between August and November 1914, usually in near-random large-scale shootings of civilians ordered by junior German officers. Individuals suspected of partisan activities were summarily shot. Historians researching German Army records have discovered 101 "major" incidents—where ten or more civilians were killed—with a total of 4,421 executed. Historians have also discovered 383 "minor" incidents that led to the deaths of another 1,100 Belgians.
This reminds me of the Polish people and how they had to keep fleeing in order not to be persecuted except instead of the Russians, it was by the Germans. Further, the Flanders region was the first region to actually have the poison gas used. I cannot imagine people dying because of a gas they didn't expect was used. That would have been horrible.
Now I know about what my family and cousins would have went through, I now have something else to think about this Anzac day when people talk about The Great War and when someone reads out "In Flanders Fields" because it was just something that happened to people - it happened to my family.
Now when plan to
visit the battlefields
, we'll actually be in the area of my ancestors.
There are many different websites out there for this area...
Belgium in World War 1
Western Front Association
Flanders Fields
This
Anzac day
or when you think about World War 1, think about those families who lived and died on the land before the fighting broke out. Remember they were once someone's ancestors too.